Polypropylene Soakwells - Strong and Easy
Fully Trafficable

Polypropylene soakwells are trafficable and suitable for use under driveways, carparks, concrete, paving and grass. Not to be confused with PVC soakwells!

Modular

Join the units together in a line to form a single soakwell of the required volume, that fits in your available space.

The Most Efficient Drainage

60% of the surface area is void, providing more drainage than the equivalent size concrete soakwell.

Easier in every way

Polypropylene soakwells are lightweight to transport and easier to install. Great for restricted access or odd shaped blocks as well.

Affordable and Quality

Cheaper to buy than PVC or concrete soakwells but also trafficable, modular, more efficient and more versatile.
Best products on the market!
Ask us why.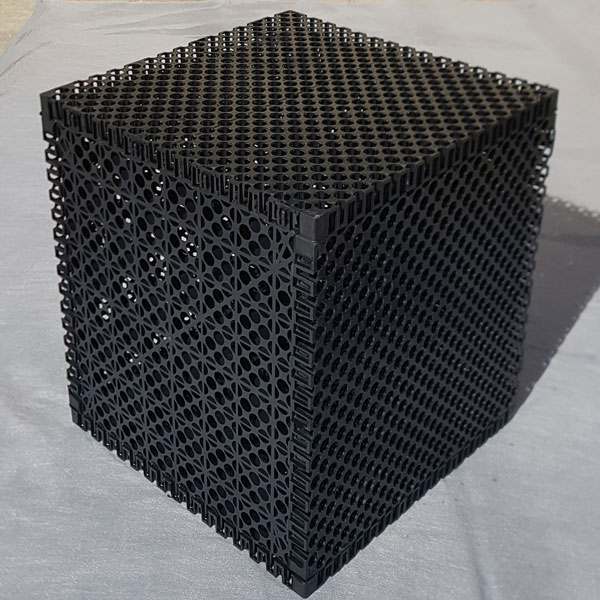 Why DIY Soakwells™ ?
Read what our customers say about our service.
Help!

We will design your system and markup your plan.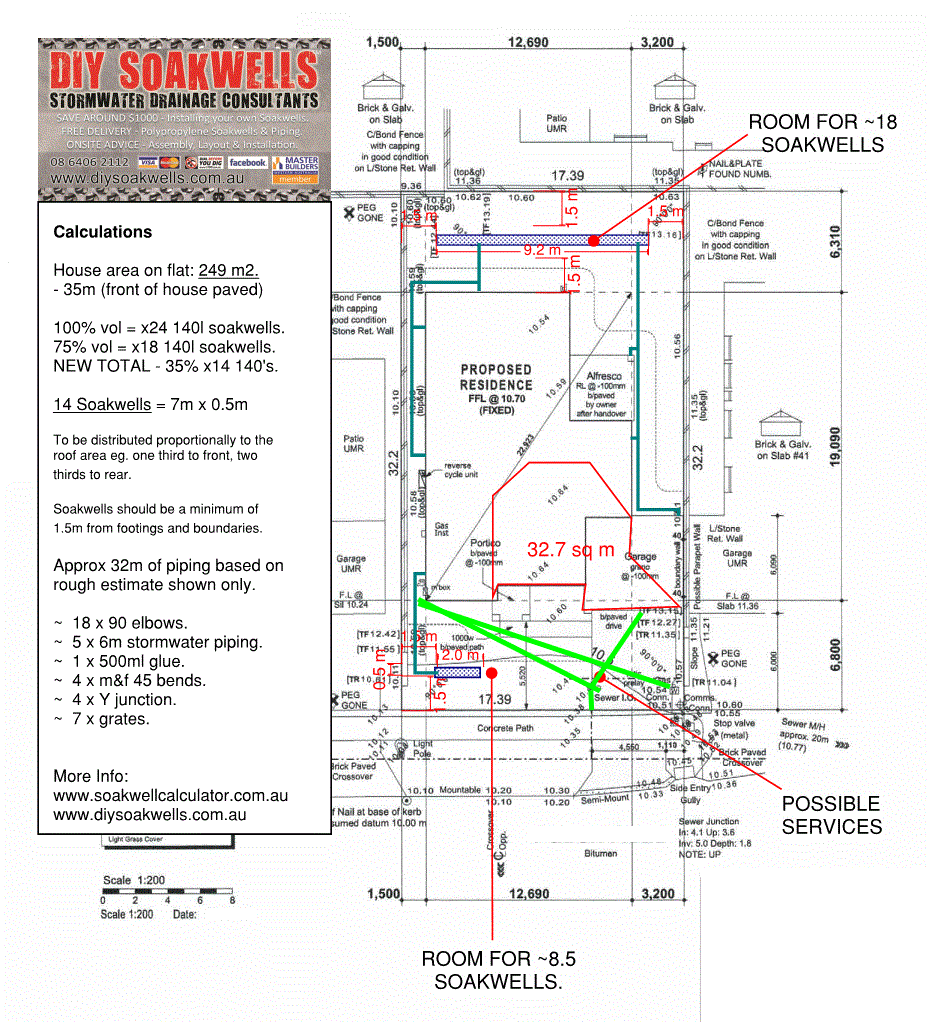 Onsite Guidance

Be confident! Our unique service includes pre-purchase guidance on the design, onsite delivery with assembly and installation walk-through for the soakwells and stormwater piping.

Industry Experience

Together DIY Soakwells and All About Soakwells has supplied and installed concrete and polypropylene soakwells for the Perth residential and construction industries for over 10 years!

Soakwell System Design

Send us your plans and we can add markup reflecting how we would quote on the work if we were conducting the installation. Includes materials list and calculations.

Soakwell Installation Service

Visit our site 'All About Soakwells' for a pricelist for polypropylene soakwell installation.
Shop - Polypropylene Soakwells
Trafficable, Modular, Polypropylene Soakwells
All prices include GST and are correct as of Wednesday the 10th of August, 2022
All soakwell purchases include the required geofabric at no extra cost. Free delivery for orders over $200, up to 45km from Perth. Orders under $200.00 are $25.00.
Click to Checkout
Shop - Stormwater Pipe and Fittings
Stormwater Piping and Fittings
Please note soakwell purchase is required. All prices include GST and are correct as Wednesday the 10th of August, 2022
Please contact us if you need assistance. The items listed below include everything you could need for your soakwell installation.
Click to Checkout
140 litre Polypropylene Soakwells
CLICK PLAY TO SEE

WHY 140 litre SOAKWELLS ARE SO STRONG

The soakwells below are our unique '140 litre' polypropylene soakwells. The animations show the assembly of one, two and three trafficcable modules. Unique to this product all surfaces permanently interlock.
WE TAKE PRIDE IN OUR WORK
OUR SERVICE - FROM START TO FINISH




DIY SOAKWELLS PTY LTD. ACN 606 865 507
Great Service
| | |
| --- | --- |
| | Questions? Call 08 6406 2112. |
| | We can add markup to your plans. |
| | Established 2009. |
| | Soakwell Calculator. |
Easily Order Online
| | |
| --- | --- |
| | Save over $1000 on new homes! |
| | Only the best quality materials. |
| | Easy to use Secure Website. |
| | Payment on Delivery. |
FREE Delivery
| | |
| --- | --- |
| | Free Delivery up to 45km from Perth. |
| | We ship nationally as well! |
| | Free for orders over $200.00. |
| | $25.00 if under $200.00. |
Onsite Consultation
| | |
| --- | --- |
| | Help locating underground services. |
| | Help with Soakwell Placement. |
| | Soakwell Assembly Instruction. |
| | Timesaving Installation Tips. |
The highest quality polypropylene soakwells in the world.
Bar none.
EXAMPLE - TYPICAL INSTALLATION
EXAMPLE OF POLYPROPYLENE SOAKWELL INSTALLATION
The plan below is an example of a new home that requires a total of eighteen 140 litre polypropylene soakwells. After measuring the distance from the footings and boundaries and taking the underground services in the front into consideration, the soakwells have been concentrated in two locations.
As per the blue line illustrating the piping, one third of the roof area is directed to the polypropylene soakwells at the front and two thirds to the rear.
If you are looking for soakwell installation, please see our pricelist on our sister site All About Soakwells.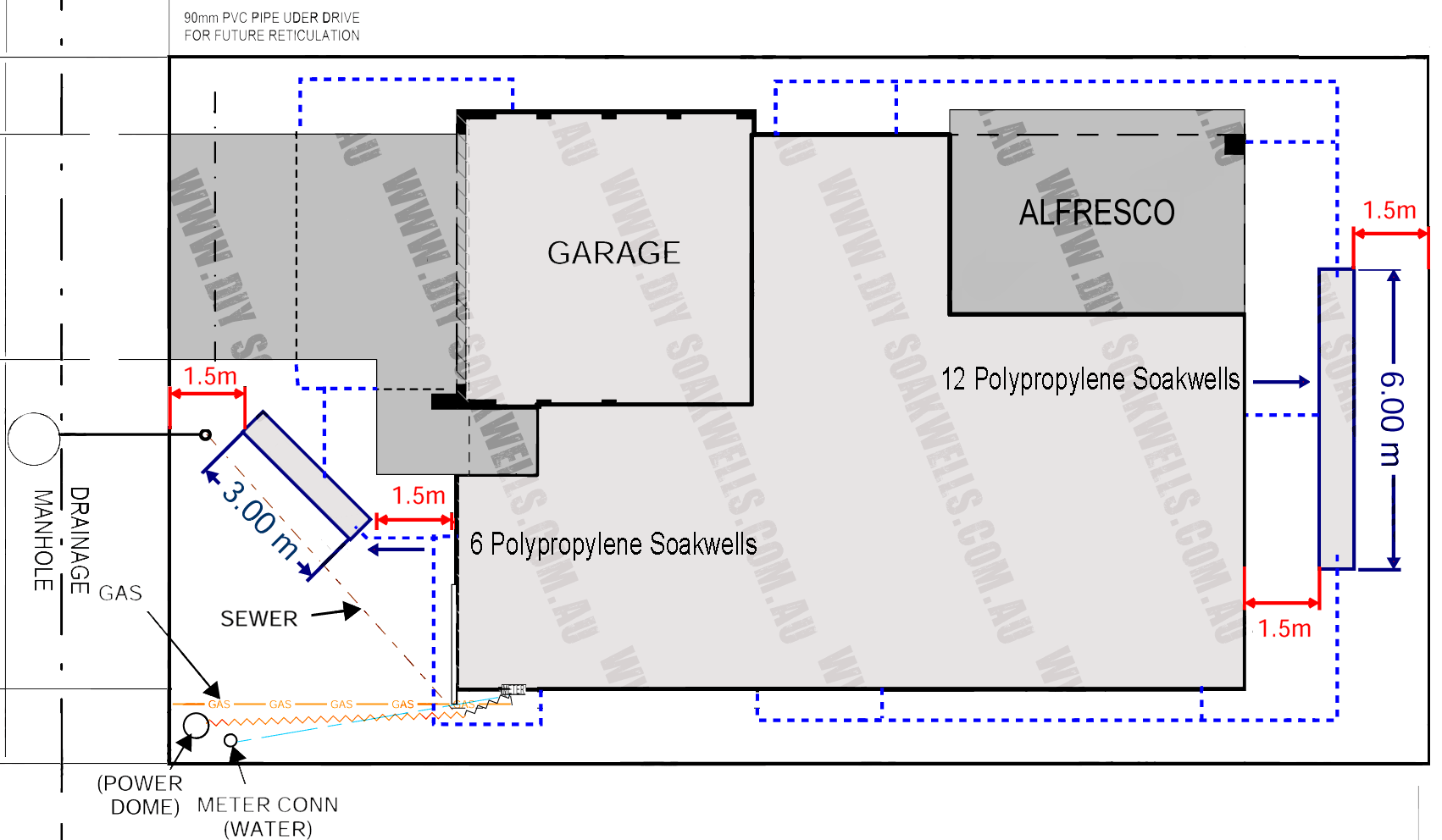 ABOUT OUR WEBSITE
HOW TO USE THE SHOP
To find out the number of soakwells needed based on your roof area click:
For more information on our trafficable polypropylene soakwells in the shop click:
To add items to the cart in the shop click:
This counter displays the number of each item in the cart:
0
To view the items in your cart and to checkout click:
We will contact you within 24hrs to discuss the details of your order and arrange delivery. You will be emailed a final invoice after delivery with bank account details. Payment can be made online by bank transfer or credit card.
ABOUT DIY SOAKWELLS™
This website is designed to equip you with the knowledge to make an informed decision when purchasing polypropylene soakwells for your home or extension.
DIY Soakwells™ supplies and delivers polypropylene soakwells, geotextile fabric, U-PVC stormwater pipe, fittings and accessories in Perth, Western Australia.
When you order from us you also receive great service and comprehensive on the job advice on all aspects of the installation.
We specialise in polpropylene soakwells. Polypropylene soakwells offer strength, efficiency and ease of installation. We supply all the necessary materials for your stormwater project, from the polypropylene soakwells to the piping and fittings.
Delivery is free for orders over $200.00 from Yanchep to Baldivas ($25.00 for orders under $200.00) up to 45km form Perth and includes one on one instruction on the assembly and installation of the soakwells plus advice on piping if required.
DIY SOAKWELLS™ INSTALLATION TIPS
INSTALLATION TIPS
Our general advice on purchasing the correct stormwater system is to calculate the volume of the soakwells based on the roof area (catchment area) and the formula for predicted rainfall during a storm from your local or nearby council.
If you are looking for a price for polypropylene soakwell supply AND installation click here for a pricelist.
LOCATION
When choosing a location, the soakwells should be at least 1.5 - 1.8m from footings and boundaries, depending on your council. Never start digging until you know where all your underground services are (sewer / gas / power / water / phone / fibre etc).
You can contact Dial Before You Dig for free to find out about the underground services on public land and we have some tips for you as well.
POLYPROPYLENE SOAKWELL INSTALLATION
To maximise the area in contact with the sand and take advantage of the design, polypropylene soakwells are ideally installed in rows in only two or three locations.
This is important because downpipes can take different amounts of water from the roof at different times due to the fall of the gutters, direction of the wind/rain or maintenance issues.
We always aim for just two locations, a row of polypropylene soakwells at the front and back of the house. This is dependent on factors including available space and the location of underground services as well as the distribution of roof area.
Tip! Halve the number of 140 polypropylene soakwells to find out the total length!
eg. 12 soakwells = 6m long (W x 0.5m, D x 0.9m).
STORMWATER PIPING INSTALLATION
The inlets are cut in the top of the soakwell. The inlets can be cut prior to wrapping, otherwise they can be cut once the soakwells are installed (before backfilling). Ensure you do not cut the hole where there is a divider.
For the piping plan, walk around your house and draw a rough plan of the boundary, house perimeter, downpipes and proposed soakwell locations.
Pace out the length of pipe required from the furthest downpipe to the soakwells. The fall for the pipe is 100mm for every 10 metres. Cut a hole in the top of the soakwell for the pipe. Make sure you glue the fittings and pipe.
A simple approach is best for is to digging and measuring. We only use 90° elbows for corners and try to avoid 45° bends. For junctions we recommend using Y-junctions with M&F 45° bends to create a Y shaped T for easy trenching and the best performance.
You should use grates under the downpipes to prevent water rising up the downpipes in any situation and to allow the system to breathe for optimal flow. Some exceptions could be undercover or wooden areas.
Tip! - The inlets are cut into the top of the soakwell for easy access.
SAND DISPOSAL
Don't forget you will have the sand displaced by the soakwells at the end. To estimate the amount take the total volume of the polypropylene soakwells and add another 30%. We have some tips on how to deal with this as well.
Please consider
if you found this information useful.
DIY SOAKWELLS™ EXCAVATOR HIRE
MINI EXCAVATOR HIRE
Make the hardest part of the job easier. At just 700mm wide, you CAN fit an excavator back there!
DIY Soakwells recommends installing your soakwells in rows , in as few locations as possible. Our tiny 1t excavator , with custom made 600mm bucket is perfect for the job.
Taking you places you never thought you could go!
Pickup or Delivery available.
Features
Easy to operate, no license required in Western Australia.
This mini excavator can withdraw it's tracks to become just 700mm wide!
With a folding, removable rollcage this machine becomes just 1.79m tall.
Dig up to 1.71m deep.
Equipped with a 180mm bucket (shovel sized), 350mm toothed bucket and 600mm mud bucket perfect for soakwells.
Push sand around with the 860mm blade.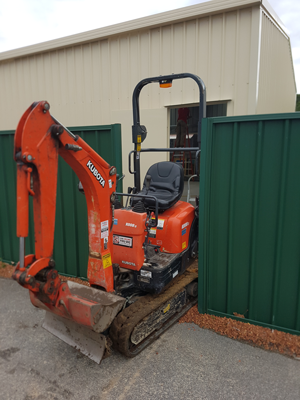 Rates
24 hr hire, you pick up / drop off:

$250.00 plus GST

Suitable vehicle and tow bar required.

24 hr hire, we pick up and deliver:

Contact us for freight quote.

Yanchep to Baldivas.

Excavator hire with an operator:

$95.00 /hr plus GST

Minimum 3hr hire (2hrs working / 1hr mobilisation).